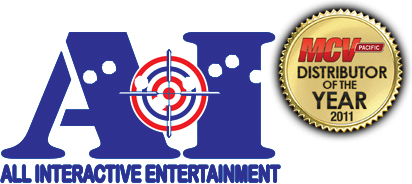 All Interactive Entertainment (AIE) is a separate division of AID that focuses on managing the exclusive distribution rights of brands and publishers for the ANZ territory. AIE was established in 2008 and has quickly become the largest, privately owned, independent gaming and accessory distributor in Australia and New Zealand.
Together with AID, AIE uniquely offers complete penetration into the Australian and NZ markets with direct relationships with both the major and minor retailers. AIE therefore, benefits from complete control over product launches including an aligned distribution schedule and comprehensive marketing strategy across the entire channel.
AIE is constantly looking for more publishing partners to continue to grow and expand. If you would like to contact AIE regarding a distribution opportunity, please email Robert Kingston - .